Rugene aka 'Spider'
Assistant Instructor Birthday: December 12th Languages: English, Spanish, Dutch and Papiamento
"Hi, my name is Rugene aka 'Spider'. I am a Bonairian, my favorite fish it the lion fish because it is a tasty fish to eat and you find it everywhere in the world. My favorite dive site is the Salt Pier, it is a very ease dive and really shallow as well. Every time I go there, there is something different on that dive. I also like to go shore diving at the East Coast for a bit more adventure!"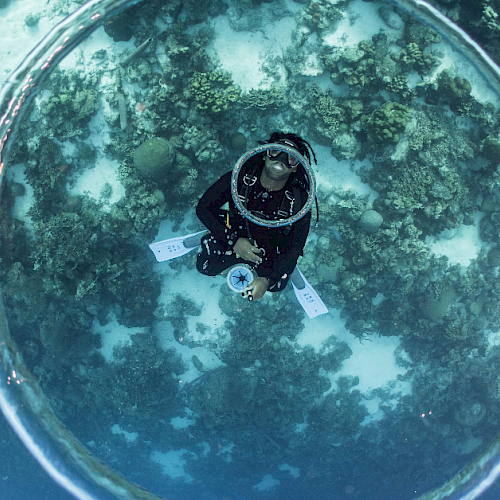 The rescue of Spi-Phyll!
Kralendijk September 14, 2021
"It's not every day a manta ray swoops in on a dive in Bonaire, but one turned a routine dive into an unforgettable experience when it approached a group of divers with what seemed like a cry for help.
Rugene "Spider" was guiding the divers of The Villages Scuba Club at the Corporal Meiss dive site when they saw an oceanic manta approaching. It was entangled in fishing line and dragging a cluster of line, hooks and rope behind it. Spider knew exactly what to do! He swam towards the animal and was able to remove most of the lines, but not all. Phyllis Mihalas, part of The Villages Scuba Club, handed over her knife as the manta clearly came back for more help.
Phyllis was diving alongside Spider and had a ceramic cutter that she handed to him as the manta made a second pass around the divers. Working gently, the divers were able to remove all of the line in just a few minutes. As a "thank you," the manta came around a third time and did a somersault before heading back into the blue."
According to the Caribbean Islands Manta Conservation Program this manta was unidentified and they allowed us the opportunity to name her….this is SPI-PHYLL.